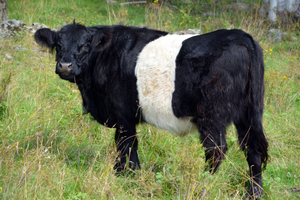 Belted Galloways
If you have ever driven by our farm or checked out our facebook page, you might have noticed our Belted Galloways, AKA Oreo Cows. We are really happy with our decision to transition the herd we purchased from my grandfather from Black Angus to Belties.
The Belted Galloway is a heritage beef breed (old) that originated in Scotland. Heritage breeds tend to be hardier because they have less genetic specialization built into the breed. This specialization is typical of animals bred for commercial production and yields bigger animals and faster growth times at the expense of durability and life span.
We chose the Belties because they are uniquely suited to our goals as a grassfed farm located in the northeast. They are smaller than the Angus which makes it easier to achieve a high-quality carcass on grass alone, plus, because they're lighter, they won't tear up the ground as much when the soil is wet in the spring and fall. Secondly, the Belties have a long haircoat that allows them to winter much more comfortably than the short hair breeds and with less loss of condition. Partly as a result of their longer hair, the Belted Galloway is known for "inter-muscular marbling." This is a fancy way of saying that they distribute fat throughout the muscles rather than carrying all that fat as an outer layer of insulation. This makes for a more flavorful eating experience. As we all know, "the flavor is in the fat," that's why most meat eaters prefer a well-marbled cut. 
Finally, the thing we like best about our Belties is their docile temperament. They are pleasant to work around and are much calmer than their Angus counterparts. It's amazing to see the difference in the two breeds that are working daily in the same system.
So if you'd like to meet one of our "oreo cows" in person, stop by and say hi! They would love to see you!
---