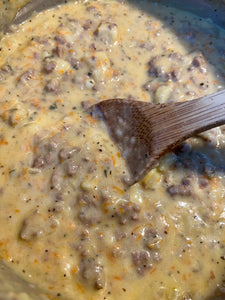 Cheeseburger Soup
This Cheeseburger Soup is a comfort food in our house. It is loved by all (even our 1-yr old) and is frequently requested for lunch, dinner, and leftover lunches. This recipe does not require any special ingredients and can be thrown together in about 30 minutes or less! If you are looking for some creamy, comforting goodness then give this a try!  It is sure to become a household favorite!
Ingredients:
| | |
| --- | --- |
|  1 pound ground beef | 4 tablespoons butter, divided |
| 3/4 cup onions, chopped | 1/4 cup flour |
| 3/4 cup carrots, chopped | 2 cups cheddar cheese, shredded |
| 1 teaspoon dried basil | 1 1/2 cups milk |
| 1 teaspoon dried parsley flakes | 3/4 teaspoon salt |
| 3 cups chicken broth | 1/2 teaspoon pepper |
| 3-4 cups potatoes, diced | |
Preparation: 
Brown the ground beef in a saucepan. Drain and set aside.
In the same saucepan add 1 T butter and add onion, shredded carrots, parsley flakes and basil. Sauté until tender.
Add the broth, potatoes and beef and bring to a boil. Reduce heat, cover and simmer 10-12 minutes or until potatoes are tender.
In small skillet melt remaining butter (3 T) and add the flour. Cook and stir for 3-5 minutes or until bubbly. Add to the soup and bring to a boil. Cook and stir for 2 minutes and then reduce heat to low.
Stir in the cheese, milk, salt and pepper. Cook and stir until cheese melts and then remove from heat.  Serve warm!  Enjoy
Need some ground beef?  Get it here!
---