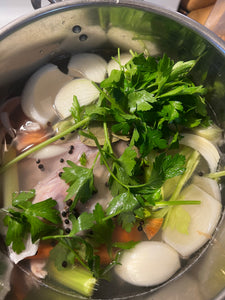 Homemade Chicken Stock
This homemade chicken stock will be far superior to anything you can buy at the store.  This stock can be used as a flavorful, nutrient-dense soup base, cooking aid, or standalone drink. It requires minimal effort and can be stored in various ways.  
Ingredients:
| | |
| --- | --- |
| 3 chicken backs and necks | handful of fresh parsley |
| 20 cups water | 4 bay leaves  |
| 2 onions, quartered | 3 Tablespoons apple cider vinegar |
| 3 stalks celery, chopped | 3 teaspoons salt |
| 4 carrots, chopped | 1 teaspoon rosemary leaves  |
| 1 Tablespoon peppercorns | |
Preparations:
1.  Place the chicken backs, onions, carrots, celery, bay leaves, parsley, peppercorns, rosemary, salt and apple cider vinegar in a large stockpot. Add about 20 cups of water and bring to a boil. Reduce the heat to low and cook at a gentle simmer, uncovered, for about 8 hours. Taste and adjust with more salt as necessary.
2.  Strain the stock through a fine-mesh strainer and let cool until not hot. Transfer to containers and refrigerate until completely chilled, about 6 hours or overnight.
3.  Skim off and remove any fat on the surface. Refrigerate up to 5 days, freeze for up to 3 months or pressure cook for up to 2 years!
Enjoy!
---