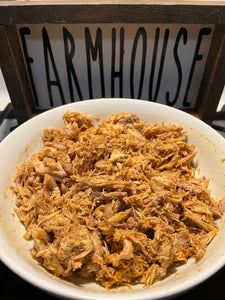 Honey Lime Chicken Tacos
"Taco Tuesday" started for Rob when he was a cadet at West Point. Since then, it's been a mid-week rallying point for our family to gather with friends to break up the weekday grind, enjoying good company and good food. 
This chicken taco recipe is our boys' favorite!  It is simple, easy and great for leftovers the following day.  Check it out!
Ingredients:
| | |
| --- | --- |
|  3 chicken breasts or 6 thighs, cooked & shredded | 1/2 teaspoon salt |
| 1/2 tablespoon chili powder | 1/4 teaspoon pepper |
| 1/2 teaspoon paprika | 1/3 cup honey |
| 1/2 teaspoon cumin | 1/2 cup fresh lime juice |
| 1 teaspoon onion powder | cheddar cheese |
| 1 teaspoon garlic powder | tortillas and sour cream |
Preparation:
Place the cooked and shredded chicken into a large bowl.
Add chili powder, paprika, cumin, onion powder, garlic powder, salt and pepper. Mix well.
Drizzle in honey and lime juice.
Serve with all the taco fixings (tortillas, sour cream, cheese, pico de gallo, guacamole, salsa)!
Optional - Place shredded chicken in tortillas. Add cheese and bake for 8 minutes at 350 degrees or until cheese melts. 
Need some taco meat? Try our ready built box here!
---