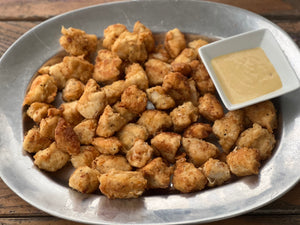 Rocky Ridge Chicken Nuggets
This chicken nugget recipe really brings out the difference in the pasture raised chicken. So moist and tender… it's just amazing. This is one of Rob's favorite meals and we include our bonus recipe for "closed on Sunday" nugget sauce! It's a big hit with our kids and it's actually good for you! We usually have ours with some rice (which actually pairs really well with the sauce.)
Chicken Nugget Ingredients:
| | |
| --- | --- |
| 1 egg | 2 tablespoons powdered sugar  |
| 1 cup milk | 2 teaspoons salt |
| 1 pound boneless, skinless chicken breasts | 1 teaspoon pepper |
| 1 1/4 cup flour | 1/2 teaspoon chili powder |
C.O.S. (Closed On Sunday) Sauce Ingredients: 
| | |
| --- | --- |
| 1/2 cup mayonnaise  | 2 tablespoons honey |
| 2 teaspoons mustard | 1 tablespoon BBQ of your choice (we use Stubb's Hickory Bourbon)  |
| 1 teaspoon lemon juice | |
Directions:
Nuggets:
In a large bowl, whisk milk and egg together.  Place chicken on cutting board and cut into cubed bite size pieces.  Place the chicken in the milk mixture and toss so that all is coated and place in refrigerator for at least 30 minutes to soak.
In another large bowl, combine flour, powdered sugar, salt, pepper and chili powder and stir.
In a cast iron skillet or sauce pan pour in oil so that its at least an inch deep on med/high heat.
Remove the chicken from the refrigerator and place about 8 pieces from the milk mixture into the flour mixture.  Make sure all the chicken is coated with the flour and then place into the hot oil.
Cook each side for at least 2-3 minutes or until golden brown.  Place the chicken on some paper towels to soak up any oil.  Repeat the same steps with the rest of the chicken. 
"Closed on Sunday" Sauce:
Whisk together mayonnaise, mustard, lemon juice, honey and BBQ sauce in a bowl and enjoy with your hot chicken nuggets!
Need chicken? Click here.
---