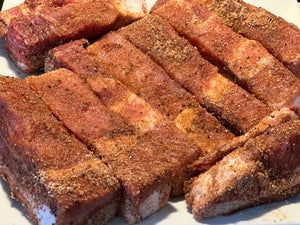 Pork Dry Rub
Homemade spice blends are so easy to make!  I love to make large batches and store the spice blends in airtight containers in my pantry.  This is super handy when I want to do a quick dry rub on some meat for the grill or smoker! But best of all, making my own spice blends means I can control the ingredients!  Good-bye preservatives and additives!
This all-purpose pork dry rub is excellent! The mix of sweet and salty flavors gives the pork a great flavor!  This rub is very versatile and tastes amazing whether you are grilling, smoking, frying or baking!
Ingredients:
| | |
| --- | --- |
| 1/2 cup brown sugar | 4 teaspoons garlic powder |
| 4 teaspoons paprika | 4 teaspoons onion powder |
| 4 teaspoons black pepper | 1 1/2 teaspoons cayenne pepper |
| 4 teaspoons kosher salt | Country Ribs, Spare Ribs, Pork Butt, etc.. |
Preparations:
Combine all ingredients for the rub together in a bowl.  Rub onto all sides of the pork.  
Need some forest raised pork?  Get yours here!
---